Australia's ThinLinX Pty Ltd has been developing Thin Client and IoT Hardware & Software for over 18 years. ThinLinX has many World First's including
First in the World to market in 2011 with our own in house designed and manufactured TLX400 single and dual display Microsoft RemoteFX / Calista hardware decoder thin clients
First in the World to market in 2011 with our own RemoteFX App for the Apple iMac, MacBook Air, MacBook Pro, Mac mini and also iPads bringing high performance Windows desktops to the Apple range via RemoteFX / Calista
First in the World to market in 2015 with our own Operating System (TLXOS) which delivered high performance Citrix HDX Windows Desktops by utilizing the US$35 Raspberry Pi H.264 hardware decoder.
First in the World to market in 2016 with our own Operating System (TLXOS) which delivered high performance VMware Blast Windows Desktops by utilizing the US$35 Raspberry Pi H.264 hardware decoder
More recently we have transitioned to TLXOS Software solutions which allows us to concentrate on developing the best value Thin Client, Digital Signage and IoT Gateway Software for existing high volume hardware such as Raspberry Pi's, Intel and AMD Small Form Factor devices, Re-Purpose PC's and Laptops
TLXOS is a small down loadable custom Linux based Operating System with minimal hardware requirements needing less than 1GB of RAM and less than 2GB of storage to deliver high performance Desktops using Citrix HDX, VMware Horizon Blast, Microsoft RDP / RemoteFX and RAS/2X (Parallels)
Start your trial today by clicking on the Download Tab above, select a Download Mirror, click on the Version of TLXOS that you want to Trial. You can trial all versions, there is no limitation on multiple trials. Don't forget to download our FREE ThinLinX Management Software (TMS)
ThinLinX Founders, husband and wife team, John & Jeanne Nicholls demoing their TLX400 dual display RemoteFX / Calista hardware decoder thin client at Microsoft Teched Atlanta in May 2011. An Apple MacBook Air running the ThinLinX RemoteFX software decoder App for Mac OS X was also demoed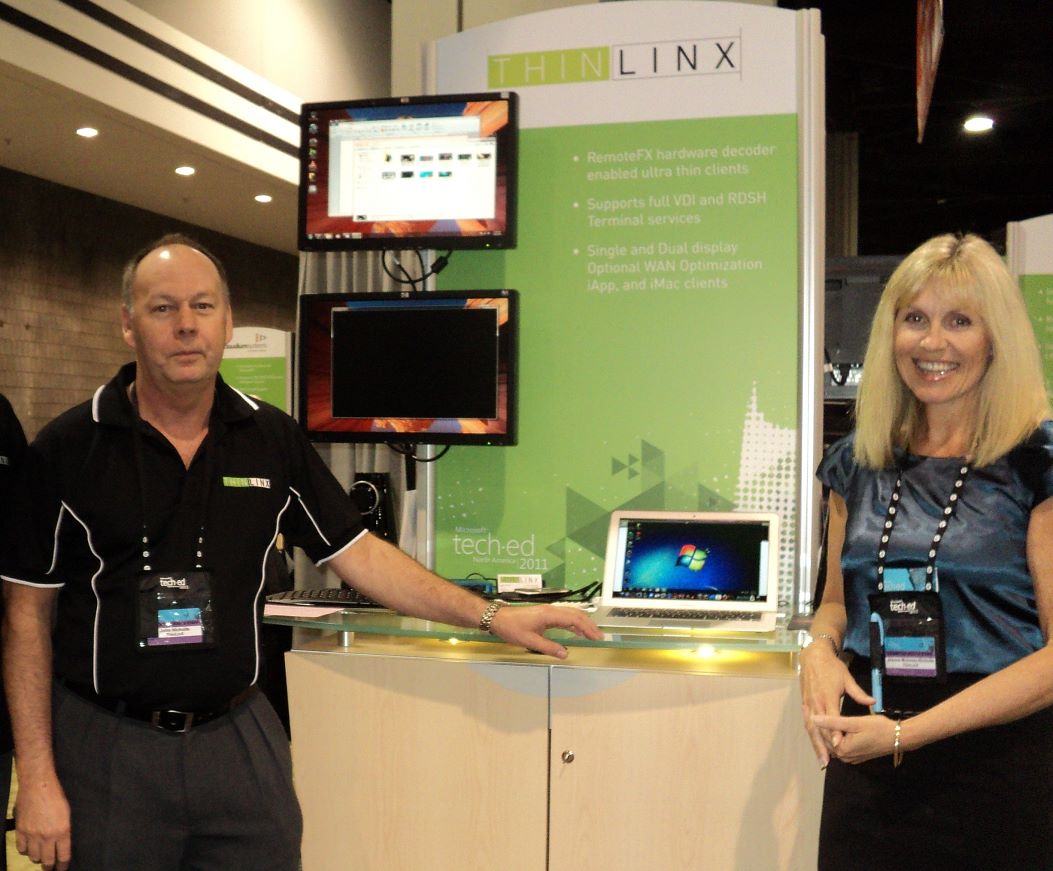 The image above shows the RemoteFX Premier Partner Award presented to ThinLinX Pty Ltd by Microsoft. ThinLinX commenced development of our own ARM Architecture custom System on Chip (SoC) with an integrated RemoteFX / Calista hardware decoder.
John & Jeanne Nicholls went on to develop the low cost single display TLX1000 and the dual display TLX2000 which utilized Texas Instruments DM3730 and DM8148 SoC's respectively. The integrated Digital Signal Processors were used by ThinLinX to deliver high performance when running RemoteFX / Calista, Citrix HDX and VMware Horizon. The TLX2000 included built in Power over Ethernet support, Dual Displays and Dual 1Gbit Ethernet. The TLX1000 and TLX2000 are displayed below
We also developed the Dual Display TLX3000 with integrated Power over Ethernet, this model used a STmicro SPEAr1340 SoC which was pin compatible with our own RemoteFX / Calista decoder TLX1 SoC.  Our ARM Architecture TLX1 SoC also included a H.264 hardware decoder. Unfortunately we had insufficient funds to finalize development of the TLX1 SoC and the TLX3000
We discontinued hardware development in 2014, switching our efforts to creating our own Linux based Operating System (TLXOS) which would support low cost ARM Architecture hardware such as the Raspberry Pi and most X86 Architecture devices. We also developed a powerful remote Management console which we call TMS
ThinLinX Management Software (TMS) is a very powerful, scalable Management Console that allows TLXOS devices located anywhere in the World to be configured, updated via Hotfixes, or have complete Firmware upgrades installed from one central location. TMS consists of a TLXOS client side component and TMS itself, the latest TLXOS client side component is always integrated in each TLXOS release, this may be updated from time to time via a TMS client upgrade. TMS is available for Windows and Linux, TMS is also integrated into TLXADM which is a Free Virtual Appliance used for administration and Desktop Shadowing
ThinLinX has just released a new much improved version 8.4.0 of TMS which has a corresponding 8.4.0 TLXOS client side which is already integrated into the current TLXOS 4.11.0 release. This allows access to all the new features of TMS 8.4.0
Download TLXOS for a 30 day Free trial, which is available now for all Raspberry Pi devices, Intel and AMD Small Form Factor devices, Re-Purpose PC and Laptops
Between our Major releases such as the above, FreeRDP, Citrix and VMware often release updated versions of FreeRDP, Citrix Receiver and VMware Horizon Client. ThinLinX creates updates which we call Hotfixes that allow our customers to install the latest Citrix Receiver, VMware Horizon clients, RDP clients and additional features from time to time.
Dual screen capability is available via TLXOS for the new Raspberry Pi 4 and RPi 400, Small Form Factor Devices and our x86 Re-Purpose PC & Laptop solution.
ThinLinX Management Software User Guide
Digital Signage Quick Start Guide
Click on the image below to go to the Raspberry Pi manufacturers Thin Clients Page